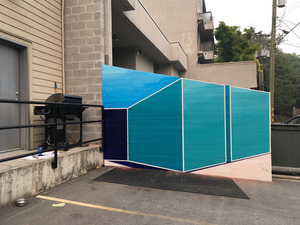 August 01, 2018
Summer 2018 presented itself with an opportunity to paint an outdoor mural and I jumped on it! 
It was an amazing experience to be outside painting a large 3D box illusion. Erin and E.J the owner/trainers at Crossfit Uncivilized where super supportive and Erin even pitch in by painting sections of the mural! 
Thanks again for believing in me and giving me such opportunity. 
You can view the mural in the back alley of the 2900 South block of Broadway. It is behind CrossFit Uncivilized for those who know the gym. 
I also uploaded it on Google map for you enjoyment (or driving direction!) 
If you have a wall and are enjoying what I did with this one, I am available for more of these opportunity!
Let me know what you think.
Marion